Overheard tapes Jake Tapper 09/20
Please join Overheard with Evan Smith for an interview with CNN journalist Jake Tapper on Wednesday, September 20, 2023 at 12:15pm in Studio A at Austin PBS's new facility, the Austin Media Center (map).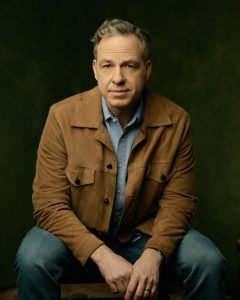 Jake Tapper has written two New York Times bestselling novels, The Hellfire Club and The Devil May Dance, as well as the bestselling nonfiction book The Outpost: An Untold Story of American Valor, which was turned into a critically acclaimed film in 2020. He is the lead DC anchor and chief Washington correspondent for CNN. A Dartmouth graduate and Philly native, he lives in Washington, DC, with his wife, daughter, and son.
Wednesday, September 20, at 12:15pm
Doors for Austin PBS members at 11:15 a.m.
Doors for general admission at 11:45 a.m.