Overheard tapes Susan Rice 11/20
Please join Austin PBS's Overheard with Evan Smith for an interview with Susan Rice on November 20th at 3:45 p.m. in historic Studio 6A (map).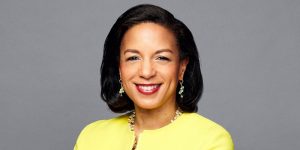 Susan Rice began her service in the public sector in 1993. In the Clinton administration, she was a foreign policy analyst on the National Security Council and assistant secretary of state for African affairs. Under President Barack Obama, she served as the U.S. ambassador to the United Nations and national security advisor. She is currently a distinguished visiting research fellow at the School of International Service at American University, a non-resident senior fellow at the Belfer Center for Science and International Affairs at Harvard's Kennedy School of Government and a contributing opinion writer for The New York Times.
Rice received a master's degree and doctorate in international relations from Oxford University where she was a Rhodes Scholar and her bachelor's degree from Stanford University.
She recently released a memoir, Tough Love, that provides an insider's look at the White House, foreign affairs and balancing work with motherhood.
ENTRANCE IS BASED ON CAPACITY.
Wednesday, November 20 at 3:45 p.m.
Doors for Austin PBS members at 2:45 p.m.
Doors for general admission at 3:15 p.m.